Guess how Ramiro and Melissa Cruz would spend one free night a week.
Get some extra sleep? Nah.
Read that book? Not likely.
Binge-watch the latest Marvel show on Disney+? Please.
What then?
Hands down, the Cruzes would serve the people around them. They'd start a Bible study. They'd begin spiritual conversations. They'd volunteer to help struggling families.
When Melissa graduated high school, she jetted straight out of Chicago for Mexico. But she wasn't heading to Cozumel, Cancun or Cabo San Lucas. Instead, her months-old faith, stimulated by the book of Acts, motivated her to serve Christ in northern Mexico.
When Ramiro is at the DMV, people stalled in the traffic jam of bureaucracy discover the tenderness of Christ. Melissa says his heart and personality turn most places into a pastor's office.
The couple started their first church in Illinois. Then they moved to California to start a second church. Now, they are starting their third church in Tennessee, motivated by a strategy to minister to people as Jesus builds his church."
Today, there are books, podcasts, conferences, and decades of research on starting churches. But the Cruzes first two churches started without all that. Instead, they simply helped others find the Lord's love and power ― and people wanted that.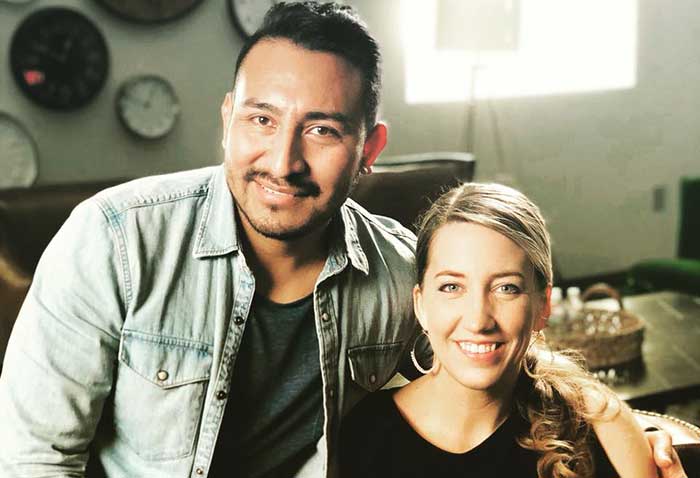 What do you want in church?
Eddie Gonzalez only wanted two things as he looked for a church near his middle Tennessee home.
He asked God for a church with Spanish-speaking people and worshipers that put God first. The Lord answered his prayer with Mosaico Church, a new Converge church near Nashville.
"Since the first day I went there, I knew," he said. "I love the Mosaico Church family to death. Anybody I talk to, I can't stop talking about that church."
His parents left Cuba when he was seven and resettled in America. Throughout the ups and downs of his life and faith, one truth remains: put God first.
Gonzalez has followed Christ for decades. Now, more than ever before, Gonzalez recognizes transformation in his character and conduct because of Mosaico Church.
"God, through this church, is completely changing my life," he said. "I know the presence of God is there."
Who is God with and how?
The Cruzes started a church near Chicago and another in California before their third church plant, Mosaico Church, located in Smyrna, Tennessee. Their template is the book of Acts. The couple keeps learning from New Testament disciples responding to a God who dwells with them.
As a high school student on a church retreat, Melissa watched as a youth leader lit a candle in a pitch-black room. Cruz and the other teens were each given a candle and invited to light their candle from the only light in the darkness.
"I could clearly see I was part of the darkness," she said. "For me, that was my moment of never going back."
She never heard from that church again. There was no follow-up discipleship. She read a Bible her mom had given her, and the Holy Spirit worked through the New Testament examples.
"My idea of what a Christian is were the people in the New Testament," she said of her early months following Christ. "The people turned their back on any other plans they had and followed Jesus 100 percent. That was the only version of a Christian in my mind."
She graduated high school early and went straight to the mission field, just like what she saw in Acts and the Gospels. She arrived in northern Mexico, dependent upon God's leadership and love.
Ramiro – while eating quesadillas – experiences God
Ramiro grew up in Tuxtla Gutiérrez in far southern Mexico. The town is 28 hours from El Paso, Texas, and 10 hours south of Mexico City.
Cruz entered a church building almost every day of his life. He read the Bible often and many people in his family followed Christ.
At 17, though, even with all his Christian influences, Cruz unexpectedly experienced something supernatural. While eating quesadillas with his uncle, aunt and cousins, a pastor approached them.
Before the pastor left, he told Ramiro, "I want to pray for you because God has something for you."
"When he put his hands on my head, I started crying and I couldn't stop crying," he said. "Something changed in my life. Something changed inside me. I wanted to serve Jesus with all of my life."
So, he moved north to study at a Bible school. But, God had another surprise in store. The missions organization that sent Melissa to northern Mexico partnered with the Bible school.
God must be writing this script.
"I met him the first week I was there," Melissa said. "He was doing an internship, and part of his job was to disciple new interns, like me."
The couple who celebrated 16 years of marriage in August laughs at her words.
"It's a lifelong assignment," Melissa jokes about Ramiro's role in her life and faith.
Where is the Lord taking us?
Ramiro moved away to Bolivia a few months after meeting Melissa. They grew closer despite dial-up AOL connections and Skype calls in wireless cafes.
They got engaged and moved to the Chicago area. While waiting on the residency paperwork for Cruz, he and Melissa wanted to honor the Lord while the paperwork shuffled.
"We didn't know how long that would be, so we started doing ministry while we waited," she said. "Neither one of us are 'sit still' kind of people."
A Bible study turned into a ministry that turned into a church for Hispanics, Ramiro explained. So, even though they planned to go back to Mexico after their wedding, the couple quickly discovered many ministry opportunities among Hispanics in Chicago.
They discovered the same in California and now in the Nashville area with Mosaico Church. Ramiro knows he and Melissa are a team with the Lord leading and supplying them.
"I cannot plant a church by myself," he said. "We have to do it together."
Mosaico demands more than just one night
In January 2021, the Cruzes were ready to act on their positive assessment as Converge church planters. So, they pursued a place to meet. Through Facebook, a church that converted a Mexican restaurant into a worship space offered it to the Cruzes.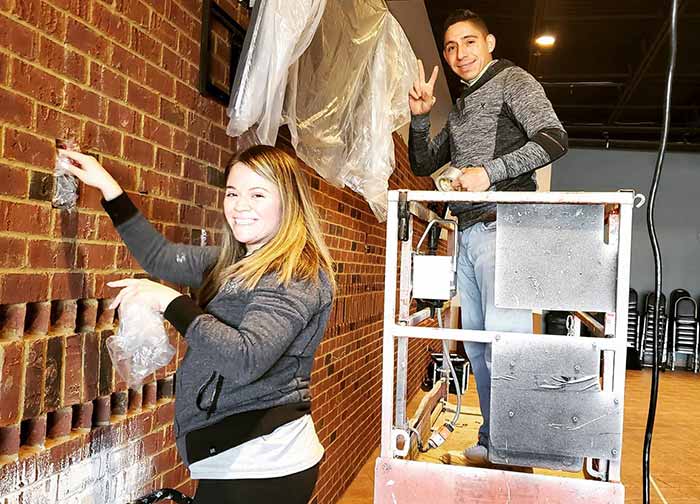 But, after the Cruz family signed the lease in January, a significant challenge emerged.
Smyrna officials didn't know a church worshiped in the converted restaurant. Therefore, a town inspection for code violations began. That process meant tearing up flooring and opening holes in walls and ceilings. The town required a $15,000 fire alarm system.
"It was very challenging," Melissa said. "We went into the lease as a major step of faith financially."
God provided for many needs through a Cornerstone Fund grant to Mosaico Church. The $12,500 grant could have covered the work the Cruzes anticipated. But the unexpected repairs and expenses cost the church tens of thousands of dollars before Mosaico Church gathered to worship even once.
Starting this third church plant has brought the whole family deeper into the Lord's service. Ramiro and Melissa and their two children, Israel and Michelle, invested thousands of hours of sweat and energy into renovating Mosaico's space.
Moreover, coordinating church volunteers to help the family work on the building left no time for anything else. So, Melissa had to shut down a staffing company she started during the pandemic.
Volunteers made huge sacrifices and contributions as well. People from the church worked alongside the family for seven months, making repairs and changes. To the glory of God, despite all the lost sleep and sacrifices, and struggles, the church had its first worship service in August 2021.
The Cruzes see many similarities in a new church plant and the New Testament church through the financial challenges and faith required for planting. Converge staff, Melissa explained, have directly and quickly helped Mosaico Church on very time-consuming projects and needs.
For example, she said Converge shares so many resources a new church needs. When the Cruzes needed an ordination process, Converge quickly e-mailed those resources rather than the couple reinventing the wheel.
"With one e-mail, you have it in your hands instead of spending weeks writing your own process," she said. "They are there for us. I love it."
Support like that keeps Ramiro and Melissa focused on the ministry and strengthens their faith in God as they press through the church's early challenges.
God is with them in the challenges
They're not alone with work, family, and financial stresses. Many of the people who worship at Mosaico Church know hardships and trials as present-day realities.
"They're just arriving in Nashville from other countries," Melissa said. "This is a very high refugee population."
Many of them are applying for asylum visas or have received such a visa. They're receiving help from food pantries, clothing giveaways, and other ministries.
But, through Mosaico Church, these new residents are learning something tremendous. They love to serve even as they're receiving help.
"They are learning they have something to give," Melissa said. "Serving others is teaching them to be givers as well."
The foundation of such a perspective is the gospel itself. For people hungry for stability and in need of so much from God, the gospel is declaring truth and hope to them.
"They are very hungry for a message of hope," Melissa said. "They're very responsive to the idea that God has a plan for their life, and he knows what their future is because their future is completely insecure."
She said many refugees worry about losing their visas, being deported or never seeing family members again. On top of such stress, getting to church can be a challenge because their workload for jobs and life requirements is much higher.
The Cruzes said many American churches can offer Bible studies, men's groups or women's groups to make disciples. But getting the Spanish-speaking people they serve into a building is often their first challenge, even if they understand why the community is so busy.
Gonzalez knows every labor and every challenge is worth the cost. He said the Christian life is not easy, especially for the many Hispanics in Tennessee who need a church. And he sees God doing so much, with the potential to do even more.
That's why he believes Mosaico is a good church for him. He sees this church as a place where God is present and active.
A new church is one of the most effective ways for more people to meet, know and follow Jesus. That's why the ten Converge districts committed to plant 312 churches by 2026.
"I see God moving. I see more and more new faces coming in," he said. "I think there's going to be a revival that reaches a lot of people."
That ― more than the best show to binge or the next chapter to read ― is worth staying up late for.
This article was authored by Ben Greene, Pastor & writer, and originally appeared on Converge's website.
Ben Greene is a freelance writer and pastor currently living in Massachusetts. Along with his ministry experience, he has served as a full-time writer for the Associated Press and in the newspaper industry.