In an effort to promote healthy, missionally engaged churches we are encouraging all of our churches and church plants to join us in establishing a church health rhythm.   
Why May? May is excellent opportunity in a church's ministry calendar to get a pulse on the ministry so that they have enough time through the summer to make plans and strategic moves before their growth thrust in the fall
What does a church health rhythm cycle look like?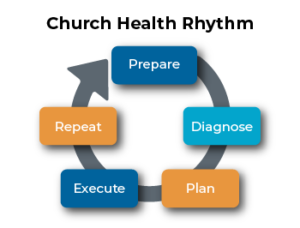 Phase 1- Prepare & Take Surveys (Sometime during the months of May-June).
Phase 2 – Analyze Results (During the months of June-July)
Phase 3 – Develop Ministry Plan (During the months of July-August)
Phase 4 – Kick off, implement and monitor (Kick off in September and push hard to April)
Phase 5 – Evaluate through surveys and repeat process (During May – June)
We are encouraging all of our churches to establish an annual church health rhythm. The more churches we can get involved in looking at qualitative and quantitative growth issues the more focused we can be in providing resources, coaching groups, seminars and workshops.
I believe that in taking a close look at your church's health and growth systems is key for it to be missionally engaged in God's redemptive work in the world. I am convinced that if every church, big or small, would once a year survey 30 key players and influencers in it, an NCD would help them make the necessary adjustments, tweaks and changes to be missionally engaged.