This story has been reposted from Converge's Newsline. Subscribe to Newsline here. 
Grace River Church, St. Peters, Missouri, celebrated the grand opening of its new location on December 8, with 410 people in attendance.
After starting in 2013 in founding pastor Chris Highfill's living room with about a half-dozen people and eventually meeting at a local elementary school and YMCA, Grace River now has a permanent 16,000-square-foot facility of its own.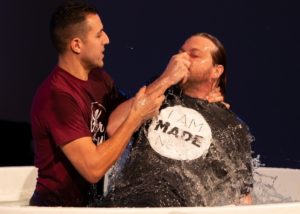 The church is already using the new location to help people meet, know and follow Jesus. On December 15, the church saw 20 people take the next step in their faith journey by being baptized. And 465 people attended the church's three Christmas Eve services. 
"One of the most amazing things that has happened is the eagerness that everyone has to invite," Highfill said. "There is just something about having our own place that makes people want to invite their neighbors, coworkers, friends and family.
"We are super thankful for the Converge Cornerstone Fund for helping make this possible and for the great capital campaign coaching that Converge MidAmerica offered to help make this opportunity to have a building possible. Our new space is just a new tool that God has given us to help people in our community find and follow Jesus."