Herbert Hoover Skoglund
DECEMBER 13, 1929

–

OCTOBER 27, 2021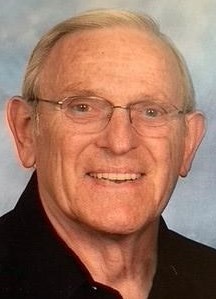 Age 91, of Plymouth, MN, passed away on Wednesday, October 27, 2021.
Herbert's parents, Herbert Uno Skoglund and Hilma Victoria Esselstrom were both Finnish immigrants and worked at Cook County Hospital in Chicago, Illinois. In early 1929 Herbert sent Hilma a note saying they should get together to talk about Finland. They were then married on March 17, 1929 and on December 13, 1929 Herbert Hoover Skoglund was born.
The Skoglund family was very active at Bethel Baptist Church in Chicago and it was there that at the age of 10 young Herb made a decision to follow Christ and four years later he was baptized. At age 16 he began to believe that God was calling him to serve.
Herb's childhood was highlighted by summer bible camp, Chicago Cubs games at Wrigley Field or on the radio, swimming in Lake Michigan and for the Austin High School swim team and endless days spent with his dear cousin, life long friend and brother in Christ, Clifford Anderson.
After graduating from high school Herb attended Wright Junior College for one semester. He then completed his B.A. degree in archeology at Wheaton College in 1952. He attended Bethel Seminary and received a B.D. degree in 1954. He continued his studies at Northern Baptist Seminary where he received a Master of Theology degree. He also studied at Garrett Biblical Institute and the University of Chicago. At each of these places Herb distinguished himself as a fine scholar and developed his love of reading on a vast variety of subjects.
Herb met the great love of his life, Jean Westerberg, as a young child. They both attended and served at Bethel Baptist Church. They grew up as friends and spent time with each other's families. The friendship grew into love and they married on September 15, 1956. They were married for 63 years, until Jean's death on July 4, 2020.
While Herb was a student at Bethel Seminary he contacted the Baptist General Conference's World Missions office and expressed an interest and willingness to go into foreign mission service. Herb's first call after graduation was at Hillside Baptist Church, a small church just outside of Chicago. Under his leadership and guidance Hillside Baptist Church grew and flourished. In 1956 John Wilcox, the head of BGC world missions, wrote to Herb reminding him of his commitment and willingness to pursue world missions. In September of 1956, shortly after they were married, Herb and Jean met with the World Missions board.
Six months later Herb and Jean left for missionary service in Japan on the S.S.Keystone Mariner arriving in Yokohama on April 2, 1957. Herb and Jean spent 21 years as missionaries to Japan. They started with learning the language and culture and then moved on to planting churches. Herb planted multiple churches in Japan in several cities including: Shakuji, Hashimoto, Kiyose, Kamifukuoka, and Minami-Urawa. Herb was also instrumental in forming the Japan Evangelical Theological Society.
While they were missionaries in Japan, Herb and Jean became parents to 4 children. During their first term in Tokyo, John Eric was born in 1957 and Robert Sven was born in 1960. They returned home to Chicago in 1961 for their first furlough and James Karl was born in 1962. They spent their second term in Japan in Hashimoto where Ann Marie was born in 1964.
In 1978 Virgil Olson, the then director of World missions for the BGC invited Herb to become the Associate Secretary of Education and Promotion in the world missions home office. Herb and Jean were happy to return to Chicago to be near family and friends. In 1981 Herb was selected to become the new Director of World Missions for the BGC. He stayed at this position until he retired in 1994. During his tenure as director of World Missions, Herb and Jean traveled the world visiting each of the mission fields. Herb's immense communication skills, boundless energy, and great passion to spread the good news of the Gospel of Jesus Christ helped to expand the BGC world missions to 14 world fields with 132 missionaries.
When Herb retired he did not stay retired for long. A few days later he began working at the Midwest Regional Office of the BGC alongside Bernie Tanis. He continued there until 1999 when He and Jean decided to move to Minnesota to be closer to their grandchildren.
They lived in a townhouse in Plymouth, Minnesota until 2017. During these years they spent many happy days celebrating birthdays and holidays in their home, attending their grandkids concerts and sporting events, being involved with church activities and visiting with friends.
In 2001 Herb and Jean returned to Japan to fill in for their former colleagues, Ken and Geri Milhouse. They spent 5 months serving at the church in Nagoya, Japan. Later, in 2008, Herb and Jean had the opportunity to return to Japan again to celebrate the 40th anniversary of Kiyose Baptist Church, a church that began in their home in 1968. On this trip Herb was presented with an award from the Japan Society for the Promotion of Evangelicalism. The award recognized Herb's distinguished service in church planting ministry. The award also recognized his role in forming the Japan Evangelical Theological Society and his contribution to world missions as former director of BGC world missions.
Around 2014 both Herb and Jean began to struggle with their health. Jean developed arthritis and Parkinson's disease and Herb began showing signs of Alzheimer's disease. In 2017 they both moved into Cornerstone Assisted Living in Plymouth, MN. Jean was in assisted living and Herb was in memory care. They were well cared for there. Herb lived there until his death on October 27, 2021.
Herbert was preceded in death by his wife, Jean (Westerberg) Skoglund; and his parents, Herbert and Hilma Skoglund.
He is survived by his four children, John, Robert (Betty), James, and Ann Marie (Lane) Skoglund-Anderson; Nine grandchildren, Tara (Jesse) Carroll, Daniel, Megan (Ray) Carlos, Janine, Benjamin(Nancy), Alyson, Britta (Christopher) Scanlon, Stennar (Shavonne) Skoglund-Anderson, and Karsten Skoglund-Anderson; and four Great-Grandchildren, Tyler, Isabel, Harriet, and Penelope.
Herbert Skoglund was a powerhouse of a man, full of energy and love of life. He loved chocolate, he loved Chicago, he loved Japan, he loved the Chicago Cubs and he loved books.
He loved his wife, Jean, he loved his children and their families and he was passionate about sharing the love of Christ with the whole world.
But most of all he loved that he was a child of God, a sinner saved by grace, given the gift of everlasting life with his Savior, Jesus Christ.
Memorial Service 11 AM on Friday, November 12th at MapleRidge Baptist Church 13400 Maple Knoll Way, Maple Grove, MN, with luncheon to follow.
Due to COVID-19, the family was only able to hold a private memorial service for Jean when she passed July 4, 2020.
A joint Memorial Service for Herb and Jean will be held at 11 AM on Tuesday, November 30th at Bethany Baptist Church 6700 West Gunnison Street, Harwood Heights, IL 60706.
The family welcomes all those that are able to attend the memorial services, and ask that you follow COVID-19 protocols requested by the churches.
Neptune Society 763-545-8095
Obituary obtained from www.NeptuneSociety.com