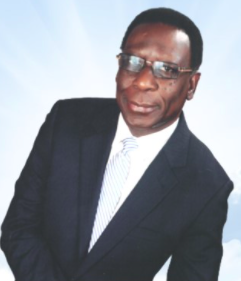 Rev. Dr. Amos Eugene
Born to Lahens Eugene and Merilia Janvier in Barriere Battant, Haiti in 1946, Pastor Amos Eugene completed his elementary education at Mareus Levie, his secondary education at Lycee Philip Guerrier du Cap Haitien and finally his university studies at Seminaire Theologue Baptist de Limbe. After this, he was awarded an opportunity to study abroad at Southern Baptist Theological Seminary in Louisville, Kentucky where he received his Master of Divinity.
After completing his studies, Pastor Amos began his pastoral career as the senior pastor of Premiere Eglise Baptiste De La Grande Riviere du Nord where he served for over 15 years. As a young, prominent pastor, Pastor Amos found love in the person of Danielle Joseph, who became Mrs. Danielle Eugene on December 25, 1982. Their union produced two men of God, Rick Darrell Eugene and Vladimir Amos Eugene.
In 1989, he became Director of the Haitian Baptist Mission (Mission Baptiste Haitienne) for a short period of time before transitioning to America. Though it was never his intention, Pastor Amos and his family relocated from Haiti to South Florida on January 1, 1991. In November of that same year, Pastor Amos continued fulfilling his call to the pastoral ministry by founding the First Haitian Baptist Church of North Dade where he led faithfully and humbly for almost 30 years.
He was a trail blazer and the first Haitian pastor to plant with Converge Southeast, formerly known as the Florida Caribbean Baptist Conference. He opened the door for other ethnic leaders and churches to join Converge. He also was a board member for the district for decades, and in 2018, he helped bring Haitian Baptist Mission into Converge Southeast with three other networks totaling 187 churches with 45,000+ people in Haiti.
He was passionate about his God and his church. His last words were, "I will bless the Lord at all times." On October 18, 2021, Pastor Amos Eugene went home to be with his Lord and Savior. He leaves behind his wife Danielle Eugene, his two sons Rick and Vladimir Eugene, his three grandchildren Jaeden, Jaycee, and Janelle, his daughter-in-law Christ-vee Eugene and his brother and sisters Rita and Edny Chavannes, Lislet and Marlene Eugene, Emani Eugene, and his nieces and nephews. He also leaves behind many other family members, friends, and his beloved church' family at First Haitian Baptist Church of North Dade. He will be forever missed!